VR & Mixed-Realities Play Kit to Prepare Under 10s for an MRI Scan
JAN 2019-MARCH 2021
Funded by Innovate UK
Dylan Yamada-Rice, RCA & Dubit (PI) and Co-Is Penny Curtis & Jill Thompson, University of Sheffield, Steve Love, Glasgow School of Art, Helen McQuillian, Sheffield Children's Hospital NHS Trust
---
This is a collaborative research and development project to produce a mixed realities (physical, augumented and virtual reality) play kit to help prepare children to have an MRI scan without a general anaesthetic. Children were included throughout the research projects, as co-designers and testers of the play kit.
The project was split into 5 work packages: (1) a series of in-school workshops to understand children's attitudes to having an MRI, as well as their favoured types of play. The child-participants also trialled exisitng apps for helping children prepare for an MRI, as well as played games to share ideas they had for staying still, which is one of the core skills children need to successfully complete and MRI scan. In addition this stage also collected data about parental concerns and attitudes via a questionnaire.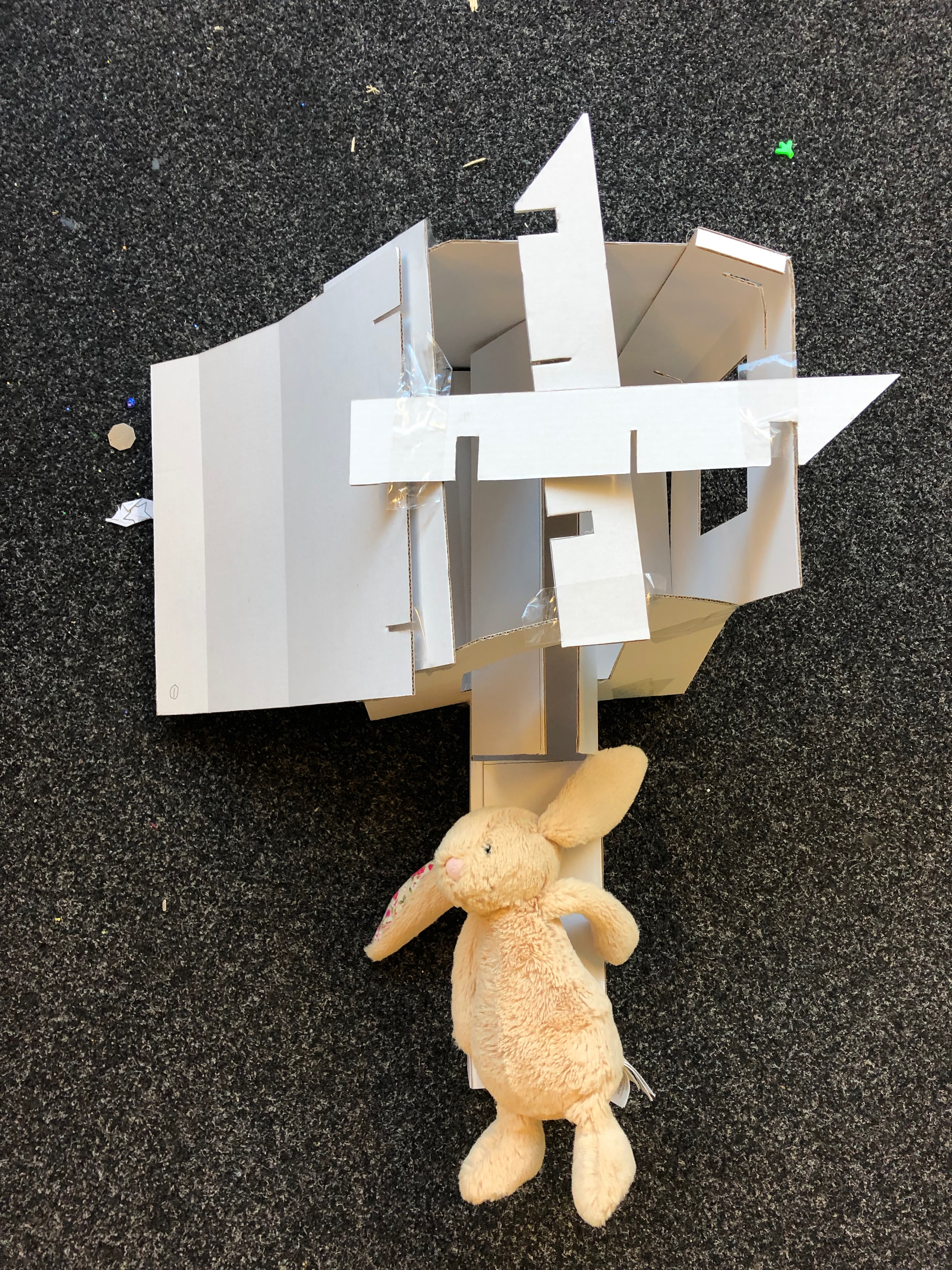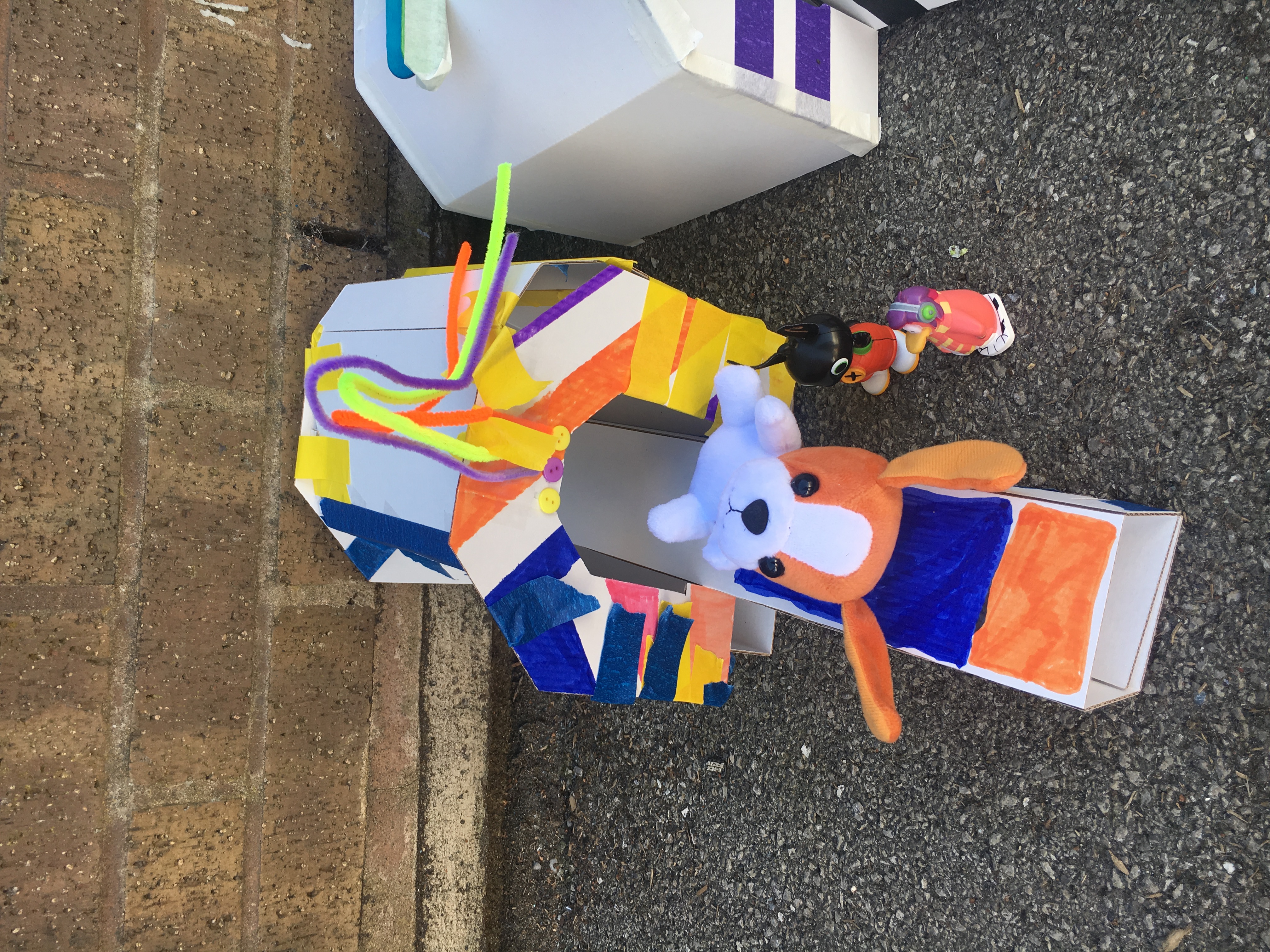 Images:
Initial in-schools workshops at the start of the project
Work package 2 was a development phase, producing a prototype of a physical toy and an AR app. As part of this phase we also undertook charater design research with children:
Image: Character design workshop

Work package 3 involved testing the play kit development with Children. The next work package was a development stage for the VR part of the play kit. During this stage I included three MA Information Experience Design students at the Royal College of Art to focus on sound, instructions and packaging design.

The MRI scanner sound design was produced by Dimitrios Menexopoulos. He responded to Stage 1 research findings that showed children were both intrigued by the sound of the MRI, i.e. where does the sound come from, how is it different for varied scans etc, as well as the need to allow them to adjust to the volume of the noise and feel comfortable with it.He aimed to show that some sounds can be very loud and strange but not scary. However, after discussion with the project team it was decided that this first version was too creative and too far removed from the sounds of an MRI scanner.

In the second phase Dimitri made a recording of the MRI scanner from a visit to a hospital, then replicated this. In the replicated version the timing of the sound was slowed in order to match the scanning pace used in the AR app.

The final workpackage involved testing the play kit with children schduled to undergo an MRI scan.


Publications
---
Yamada-Rice, D. & Love, S., (2019)
Designing tech for health: Developing a mixed reality playkit to help children who need an MRI Scan
RIAS Quarterly, 38 (38). p 57.
Images: Project dissemination
Talks
---
Children Health Technology 2021 (postponed from 2020)
Kids Designing Tech for Health, Royal College of Paediatrics and Child Health Conference (Postponed from 28-30 April 2020 to 2021)
Using Virtual Technologies for Child Health, Presentation for UT-Virtual students at Tokyo University, June 2019
Digital Health Technology Showcase, Leeds Nexus
Caring Together Conference, Sheffield Children's Hospital NHS Trust.
10th Clash of Realities: International conference on Art, Technology and Theory of Digital Games, Nov 2019, Cologne, Germany
---